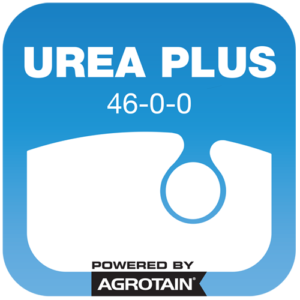 Urea Plus 46-0-0 is urea with inhibitor, urea is powered by Agrotain nitrogen stabilizer.
Agrotain nitrogen stabilizer is the original, most research-proven urease inhibitor technology on the market. With 25 years of trials and real-world results on millions of acres worldwide, it's the one growers trust to protect their nitrogen from volatilization—keeping it available to their plants to optimize yield potential and minimize environmental impact. Protecting their investment today—protecting their legacy for tomorrow.
PROTECTS YIELD POTENTIAL: Nitrogen loss due to ammonia volatilization can be up to 40% when urea or UAN is not adequately incorporated.* AGROTAIN is proven to control loss from ammonia volatilization.
PROVEN RESULTS: AGROTAIN is the most proven urease inhibitor on the market—backed by more than 1,000 trials and 20 years of real-world results on millions of acres worldwide.
COLD WEATHER PROTECTION: Research proves that even at lower temperatures, nitrogen loss is still a risk. AGROTAIN protects against cold weather loss.
AGROTAIN® VS. AN: Research shows that urea treated with AGROTAIN gives growers the same yield performance as ammonium nitrate (AN) fertilizer, but with fewer regulatory, transportation and storage issues.
"German legislation is already in place, where from 2020 when Urea is used farmers must use ones that include an inhibitor to reduce ammoniae missions"

Nitrogen (N)
Fosfor (P)
Kalium (K)

UREA Powered with Agrotain®

50-800 kg / Ha
General fertilizer recommendation, quantity must be adjusted.
Refer to soil and possibly leaf analysis, as well as consult your adviser, plant nutritional needs and crop level.