Kalciofoss
Liquid fertilizer with nitrogen, phosphorus and calcium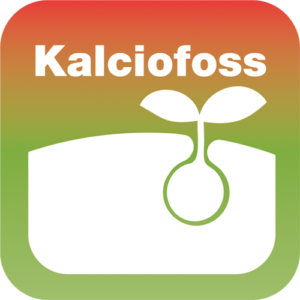 Kalciofoss is used for foliar fertilization and irrigation of nutrients both in greenhouses and outdoors. Calcium is a macronutrient that is taken up as Ca 2+. Calcium binds to the cell walls and the central lamella, stimulating the absorption of nutrients. Calcium also stabilizes the cell membranes.
During calcium deficiency, young leaves become wilted, dead and deformed. Calcium cannot be redistributed internally in the plant so it is the youngest leaves that first show deficiency symptoms. Fruits that have low transpiration may get too little calcium e.g. tomato slime rot, kernel rot in cabbage root, potato and cauliflower, especially on acidic sandy soils. In cabbage root, it provides brown cavities and areas inside the cabbage root. In the potato, dark colored cavities form inside the potato, consisting of hard cell tissue. On the outside of the potato there are often bulky growths. Can be mixed with other fertilizers, but always mix smaller quantities first. Will lead to a light pH lowering in nutrient solutions and spray liquid.
Easily accessible - dissolved in water, for immediate use.

phosphorus
kalcium
nitrogen
cadmium
density
pH
140 g/l
50 g/l
40 g/l
<0,004 mg/l
1,34 kg/l
1-3

Phosphorus, calcium and nitrogen

10-20 l / ha in at least 200 l water / ha. Do not spray directly before or in connection with sunshine. 2-4 hours of drying time provides optimal nutrient absorption.
Refer to soil and any leaf analysis, as well as consult your advisor, plant nutritional needs and crop level.
OTHER MINERAL FERTILISERS